Celebrating Cultural Narratives: Asian American, Native Hawaiian, and Pacific Islander Films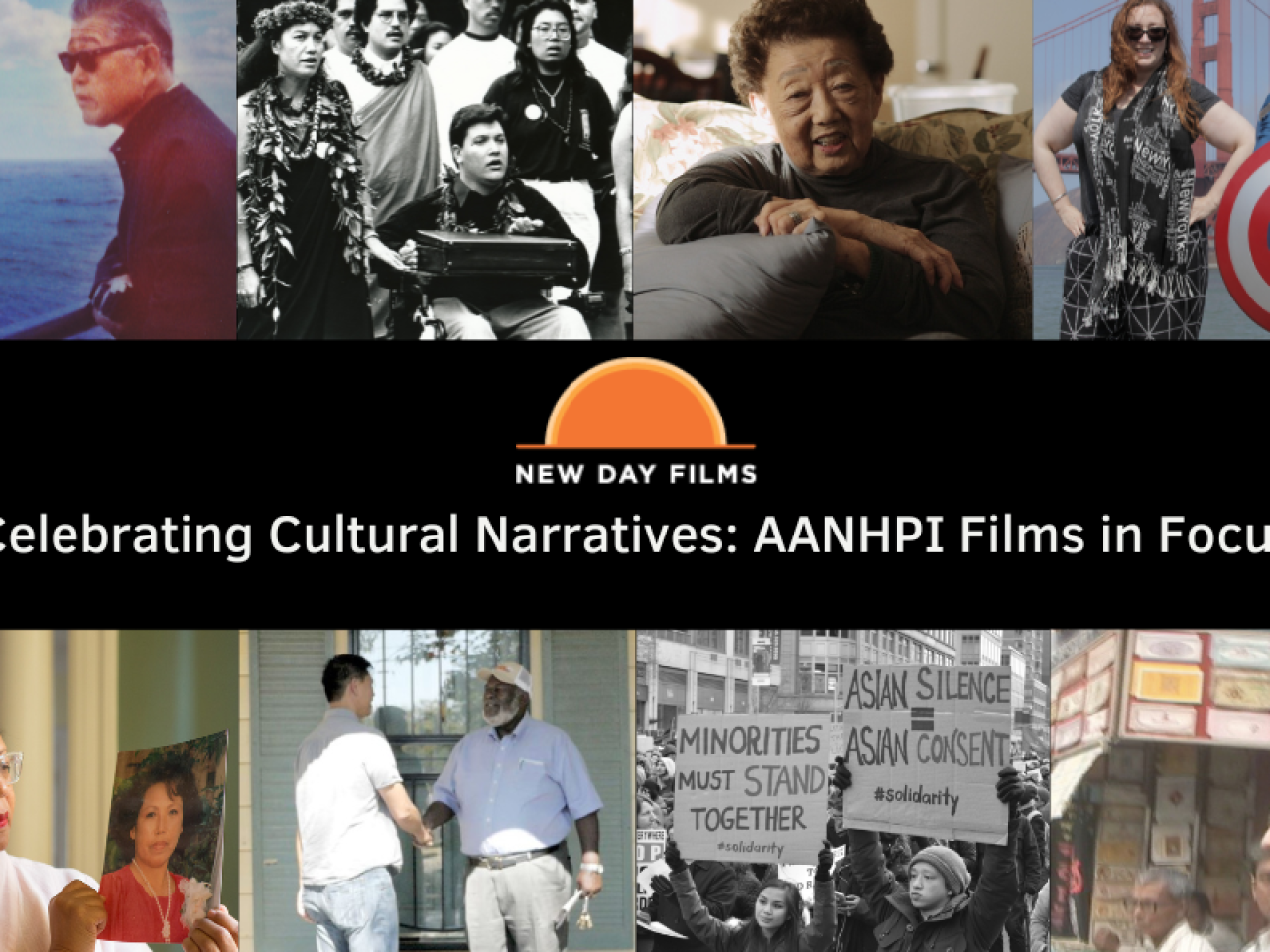 May is Asian American, Native Hawaiian, and Pacific Islander (AANHPI) Heritage Month. In addition to sharing films from our Asian American and Pacific Islander Studies collection, we wanted to share some of our favorite organizations that are great resources for AANHPI filmmakers and film discovery.
Visual Communications - Founded in 1970, Visual Communications has amassed visual resources toward building a greater consciousness of Asian Pacific history in America. Several archival films produced by Visual Communications are in New Day's collection and are available for educational license. Learn more about this special collection. Additionally, Visual Communications hosts the Los Angeles Asian Pacific Film Festival annually.
Center for Asian American Media (CAAM)-CAAM is dedicated to presenting stories that convey the richness and diversity of Asian American experiences to the broadest audience possible. They do this by funding, producing, distributing and exhibiting works in film, television and digital media. They host their annual film festival, CAAMFest in San Francisco, which is running until May 21, 2023, and CAAM offers a variety of grants to filmmakers.
Asian American Documentary Network (A-Doc)- Co-founded by New Day filmmaker S. Leo Chiang (A Village Called Versailles,Mr. Cao Goes to Washington), A-Doc is a national network that works to increase the visibility and support of Asian Americans in the documentary field. Many of our New Day filmmakers are also members and they house an AAPI focused film and crew database on their website.
Finally, we want to give a special mention to our partners at Kanopy, Many of our films are highlighted on their #AAPIHeritageMonth page.
8 Films About the AANHPI Experience
Not Your Model Minority by Jon Osaki
This film explores the myth and intersections with anti-Asian violence.
Geographies of Kinship by Deann Borshay Liem
A powerful tale about the rise of Korea's global adoption program.
Drawn Together by Harleen Singh
This documentary challenges racism and biases through cartoons, comics and cosplay.
Far East Deep South by Larissa Lam and Baldwin Chiu
A Chinese-American family's search for their roots leads them to the Mississippi Delta, where they uncover the racially complex history of Chinese immigrants in the Jim Crow era.
First To Go: Story of the Kataoka Familyby Myles Matsuno
A Japanese-American grandmother recounts her father's incarceration during WWII and the ramifications it had on her family.
Crossing Lines by Indira Somani and Leena Jayaswal
An Indian-American woman's struggle to stay connected to India after the loss of her father.
Kū Kanaka/Stand Tall by Marlene Booth
A dive into shallow water at age 15 transforms a Native Hawaiian young man into a leader of his people.
95 and 6 To Go by Kimi Takesue
A powerful intergenerational story about family, memory, and creativity.