Introduction
New Day Films hosts regular events for the educational and filmmaking communities. Check out what's happening next and please, come join us.
Upcoming events
Reframe & Refresh monthly webinar
Reframe and Refresh is New Day Film's monthly series gathering educators, filmmakers, librarians and community leaders for refreshing conversations that reframe our perspectives.
October 26th, 2022 -2:00pm ET
Join us for our next Reframe and Refresh with filmmakers Catherine Murphy, director of Silvio Rodriguez: My First Calling and Kate Way, director of Stop Time. Registration info coming soon.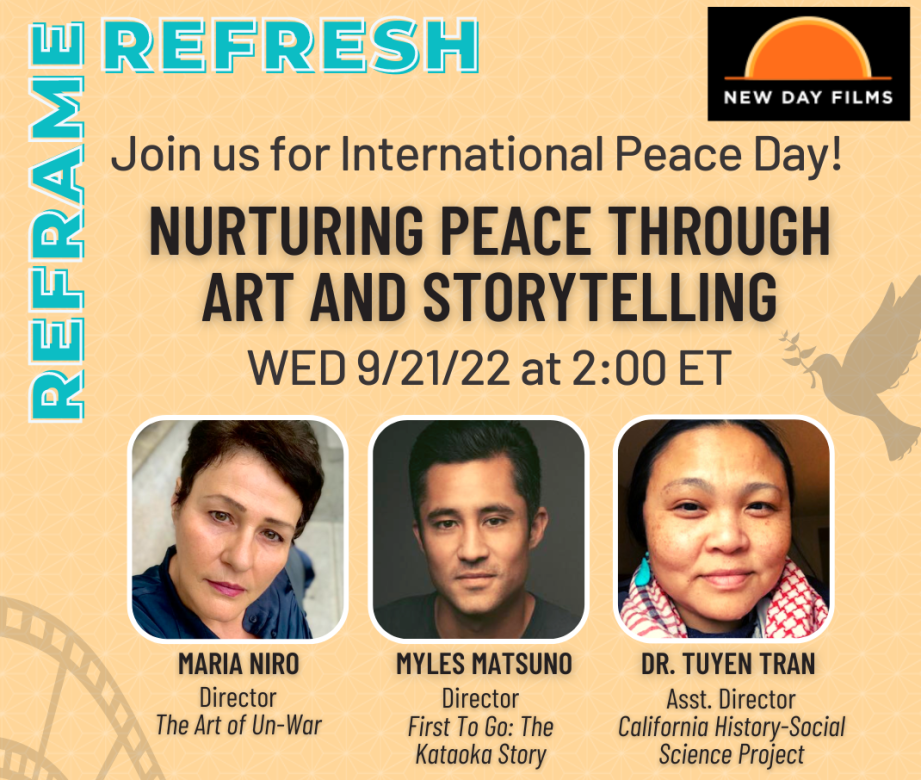 September 21, 2022 - 2:00pm EDT
In honor of the International Day of Peace, join us for this conversation with filmmakers, Myles Matsuno (First To Go: The Kataoka Family), Maria Niro (The Art of Un-War) and Dr. Tuyen Tran, Assistant Director of California History-Social Science Project at UC Davis as they discuss "Nurturing Peace Through Art and Storytelling." Matsuno's great-grandfather, Ichiro Kataoka, was the first San Francisco Japanese prisoner taken by the FBI from his hotel in Japantown and his film, First To Go shows how family members have dealt with the aftermath of Japanese incarceration during World War II. The Art Of Un-War explores the life and the powerful social art practice of renowned artist Krzysztof Wodiczko who invites veterans, immigrants and refugees to participate in his projects. Their stories of loss, displacement, abuse and PTSD combined with Wodiczko's own story of war trauma emerge in tandem as the projects become a vehicle for healing. You will receive the link to join the discussion in your email after registration. Auto-captions will be available.

Learn About New Day monthly webinar
Wednesday, October 26, 2022 at 11am EDT
If you are interested in learning more about New Day membership, please attend one of our monthly one-hour webinars.

We also encourage you to read more about who we are and how we work.