Introduction
New Day Films hosts regular events for the educational and filmmaking communities. Check out what's happening next and please, come join us.
Upcoming events
Reframe & Refresh monthly webinar
Reframe and Refresh is New Day Film's monthly series gathering educators, filmmakers, librarians and community leaders for refreshing conversations that reframe our perspectives.
UPCOMING EVENTS
Reframe and Refresh: "Examining Labor Movements, Then and Now"
Wednesday, December 6 at 2pm EST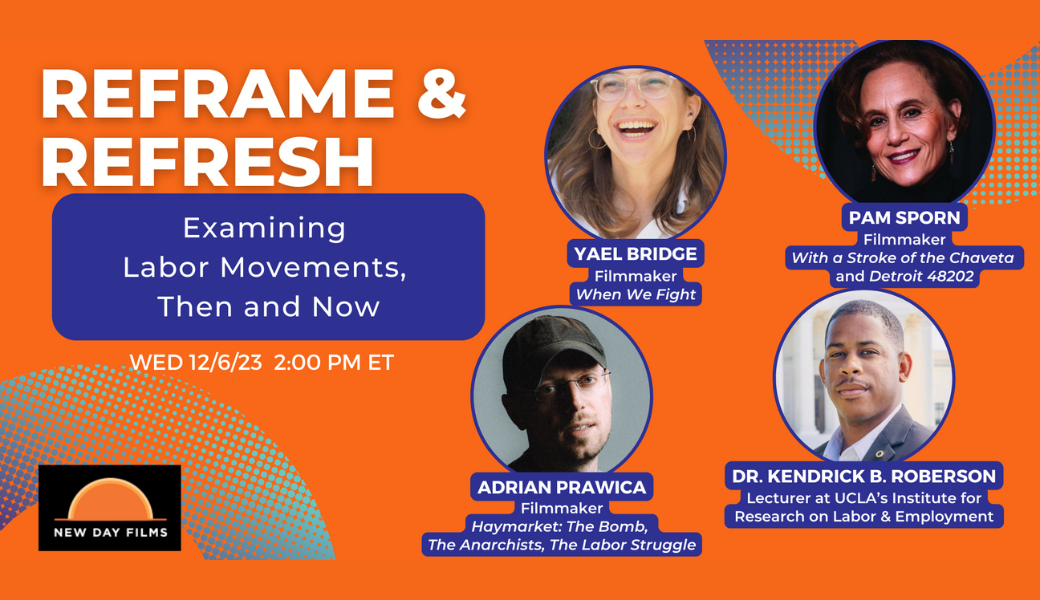 Join us for this engaging conversation on "Examining Labor Movements, Then and Now" with Yael Bridge, co-director of When We Fight, Adrian Prawica, director of Haymarket: The Bomb, The Anarchists, The Labor Struggle, and Dr. Kendrick B. Roberson, Lecturer at UCLA's Institute for Research on Labor & Employment and Chair of the American Federation of Government Employees's YOUNG Committee. The conversation will be moderated by Pam Sporn (dir. With a Stroke of the Chaveta and Detroit 48202: Conversations Along a Postal Route).
We'll delve into the historical context for worker's rights, as seen in Haymarket, and gain a fresh perspective on modern day labor movements, as seen in When We Fight.


You will receive the link to join the discussion in your email after registration. Auto-captions will be available.
PAST EVENTS
Reframe and Refresh: "Exploring Global Connections Through Korean Adoptees & Teaching in China"
Wednesday, October 25 at 2pm ET