Thought-Provoking Ways to Engage with Gender Equality for Women's History Month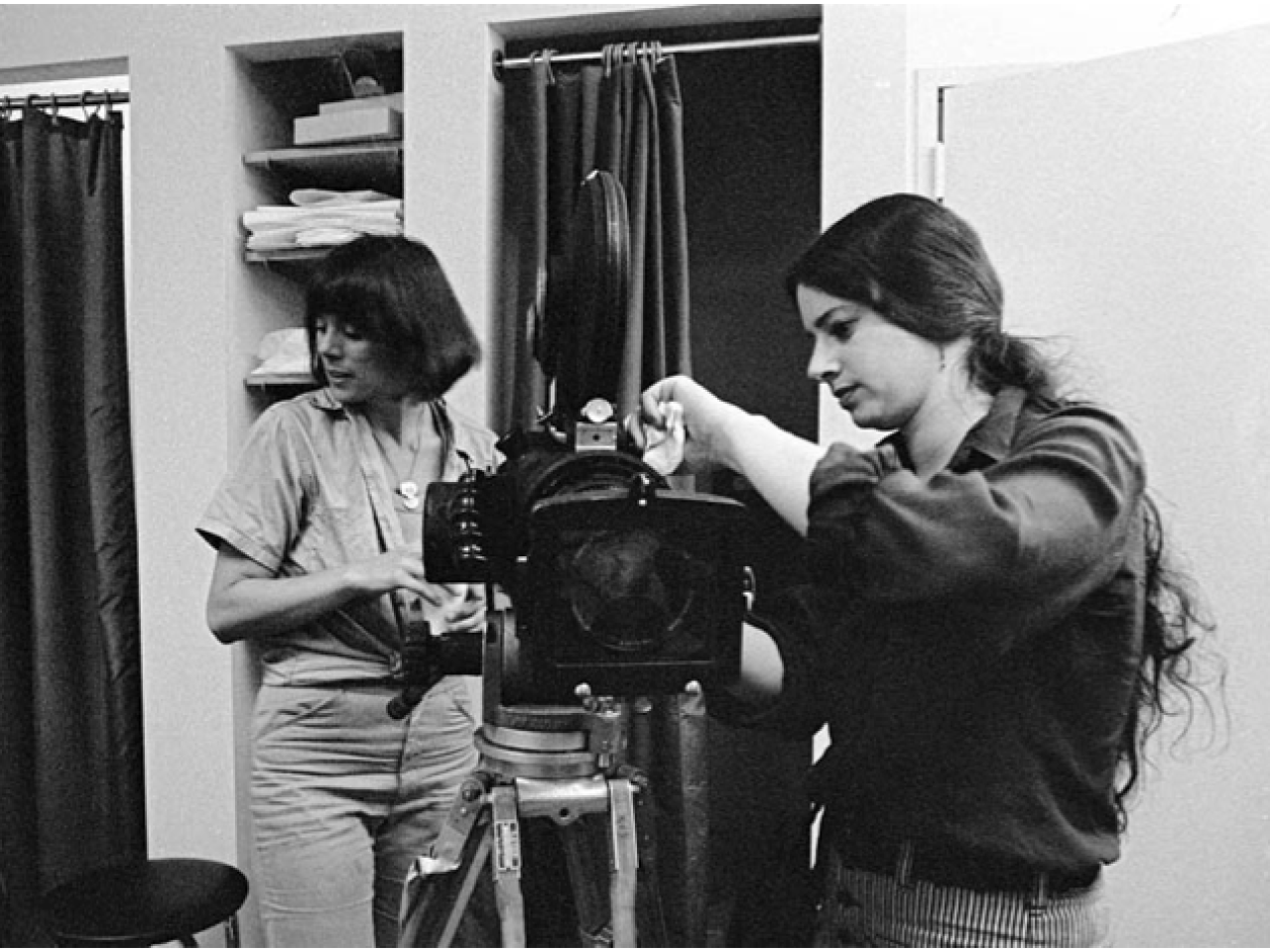 Just in time for Women's History Month this March, New Day member Briar March interviews four filmmakers whose collective body of work on gender equality span the past 45 years. Just how far do they think we've progressed and what is the relevance of their films today?
The history of New Day Films is very much entwined with that of the women's movement. In 1971, our documentary cooperative was born when a small group of feminist filmmakers decided to band together to distribute their films—films that had been deemed too controversial for traditional distributors. One of the original three films to be included in New Day's groundbreaking collection was Amalie R. Rothschild's It Happens to Us. Shot by an entirely female crew in 1971, the documentary explored women's legal right to choose. Rothschild explains that her strong desire to make the film arose out of her own experience with abortion and the prejudices she had towards women who chose to abort. She writes:
Until it happened to me I basically thought that any woman who found herself with an unwanted pregnancy was somehow personally responsible. When I had an unplanned pregnancy myself I realized through my own circumstances that it certainly was not the case, and I had to confront my own unsuspected attitudes.
A year after Rothschild's film was released, the Roe vs. Wade Supreme Court decision made abortion legal throughout the U.S. and Rothschild was both relieved and overjoyed to see the issues she had been campaigning for finally being taken seriously. But looking back in 2016, she is not so sure how far women's rights and access to abortion have really progressed. She points out how attacks against Planned Parenthood in Congress and an increase in closures of pro-choice clinics throughout America have made abortion and birth control services practically impossible for some women. She explains:
While on paper many things have changed, and many educated young women of today take for granted that they have equal rights, the reality is actually quite different. I think most young women are not aware of how many of their rights have actually been taken away with arcane laws enacted at the state level.
It Happened to Us is not the only film from New Day that explores these issues. Leona's Sister Gerri, made 23 years later by Jane Gillooly, tells the dramatic story of Gerri Santoro, a mother of two and the "real person" in the now famous photo of an anonymous woman on a hotel floor, dead from an illegal abortion. Reflecting on the use of her film during Women's History Month, Gillooly says she is often frustrated by how the documentary is solely marketed towards women, and that she would really like to see more men access the story:
Abortion affects men as well as women... I was just struck by how empathetic (and clueless actually) many men are about abortion. I'm not the first to say women's films should be seen 12 months a year.
Gillooly's desire to engage with male audiences got me thinking about Emma Watson's inspiring speech at the UN recently in which she launched the HeForShe campaign. Watched by millions on social media, the young British actress investigates why the feminist movement has been mostly dominated by women and asks, "How can we effect change in the world when only half of it is invited or feels welcome to participate in the conversation?" Interestingly at New Day Films there are a number of male filmmakers who have already chosen to join this important discussion, making films about gender equality both inside and outside America.
Leaving Home, a documentary by Robert Richter, tells the story of Renu, a bright teenage girl in a small northern village in India who planned and dreamed of becoming a teacher in the big city, only to be thwarted by traditions that force her into an arranged marriage. Richter tells me that he had planned to show "progress" in the village, but while he could see evidence of material progress in many ways, he found the lack of social progress for women even more significant. When I asked Richter how much he felt things have developed since filming his documentary in 2011 he remarks,
There has been increasing attention in India to the abuse of women, particularly after a gang rape and death of a woman riding a bus in Delhi. But I doubt that much has changed about gender roles, other than the terrible event bringing briefly to public awareness an awful symptom of an entrenched societal disorder.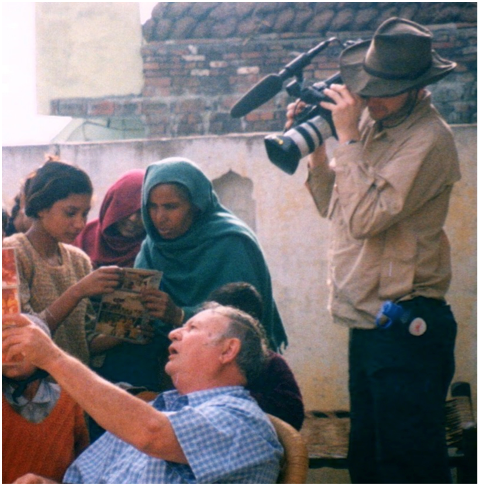 Renu's family meets with anthropologist Michael Mahar in "Leaving Home."
Thanks to films like Leaving Home, we are able to access a personal and direct insight into issues facing women outside America. And as Richter adds, it also allows for a point of comparison when thinking about the issue of gender inequality at home:
In contrast, gender inequality in America is a widely recognized issue and is increasingly challenged -- a challenge that as the father of four daughters I strongly support. In classrooms, Leaving Home does more than illuminate the coming of age of one girl. It challenges students to examine and compare gender roles where they live and how those roles are, or are not, changing. Our hope is that the film will inspire positive action.
Instead of focusing directly on gender equality, Pat Ferrero's two films Quilts in Women's Lives and Hearts & Hands look at the act of quilting, a pastime specific to women that reveals unique insights into the female experience. Quilts in Women's Lives, first released in 1981, presents a series of portraits of female quilt makers, including a Mennonite, a Bulgarian immigrant, an African American, and two Midwestern sisters. Made a few years later, Hearts & Hands uses women's quilts to chronicle the lives of women through significant events of the 19th century, including industrialization, the Civil War, and the suffrage movement. By using quilts to speak the language of politics and social justice, or by simply celebrating the artistic process of women quilters, these two films form a visual anthropology reflecting on the diversity of women's culture. Speaking of the relevance and potential use of her work, Ferrero says,
The film's issues are as alive and relevant today as when they were first made. As long as people use the needle to make quilts to reflect the issues of the day such as the Aids Quilt project did, or the quilts that raised money to fight apartheid in South Africa, or the disappeared son and daughters in Latin America, quilts will continue to reflect the most pressing issues.
As we celebrate Women's History Month this year, there is no better time to contemplate some of the issues Ferrero and the other filmmakers have raised. How can we best engage men in the feminist movement? And how can we educate young people about not only the rich history of past women's movements but also the current issues still facing us in America and abroad? These films and others in the New Day collection offer us creative and inspiring ways to engage with these timely conversations. Through screenings of our collection on campuses and throughout our community, stories about gender equality and women's issues are getting the attention they deserve. To find out more about these films and other critically-acclaimed works such as Growing Up Female, Betty Tells Her Story, and Triptych: 3 Women Making Art,visit our collection today!