10 Ways New Day Films Changed People's Lives in 2014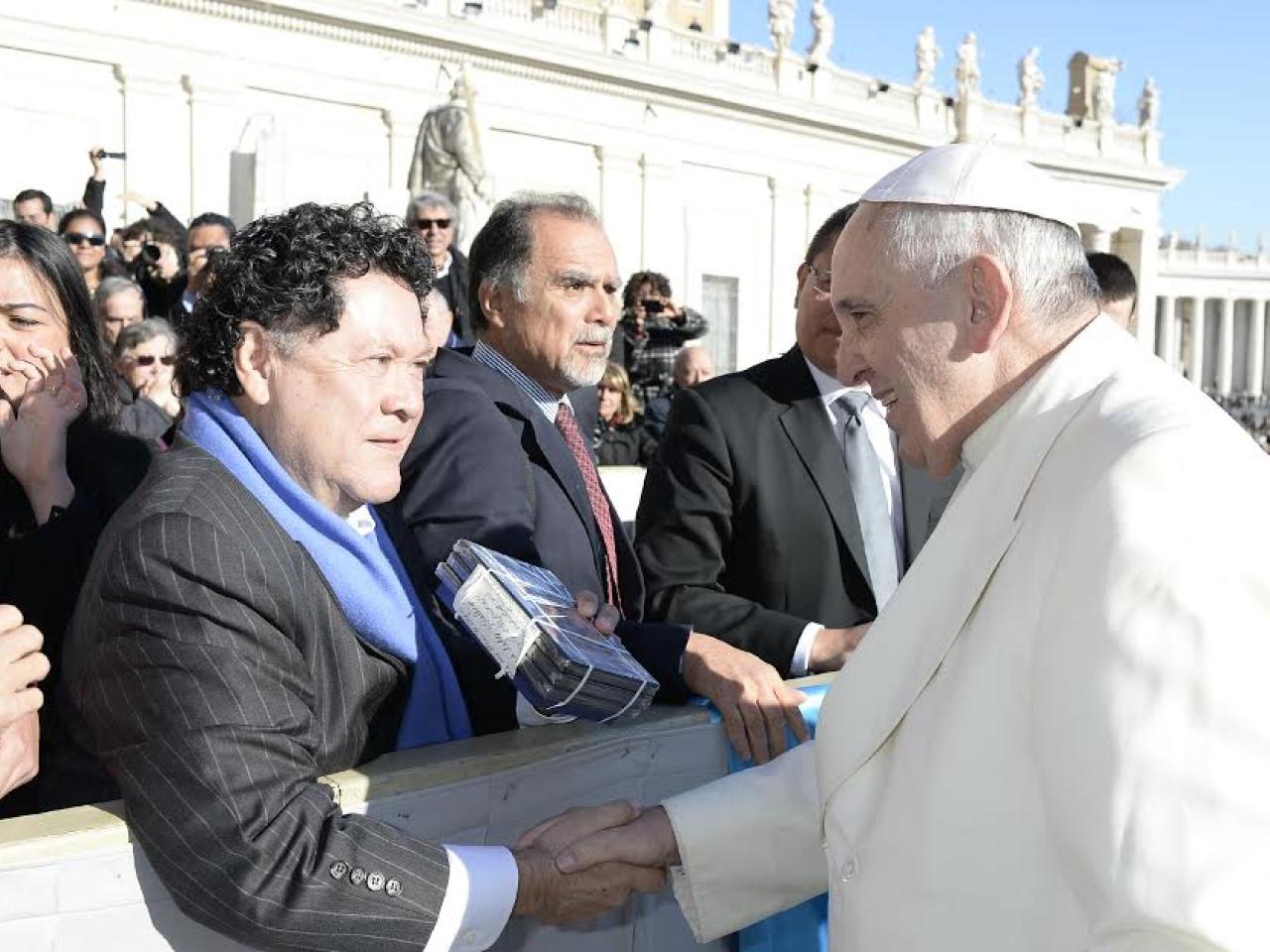 400 copies of Bag It, Suzan Beraza's film about the impact of plastic on our environment, were given away to schools throughout the U.S. and abroad. The effort was funded by Patagonia and the Johnson O'Hana Charitable Foundation.
Luis Argueta personally handed Pope Francis a copy of his film abUSed: The PostVille Raid, which highlights the devastating effects of US immigration enforcement policies on children, families and communities. Read the full story here.
Gaza Ghetto: Portrait of a Palestinian Family, Joan Mandell's 1984 film about the Israel-Palestine conflict, was used to raise funds for direct aid to children in Gaza.
Debra Chasnoff presented Straightlaced - How Gender's Got Us All Tied Up to a standing-room-only audience at Shantou University in southern China. Hundreds of students came to the first ever public lecture and screening on that campus to focus on gender and queer sexuality issues. Afterwards students shared their own concerns, fears, and questions: "I am the only girl to go to the gym to lift weights and everyone makes fun of me"; "Aren't gay people the reason there is a population decline in the west?"; and, "I think I might be lesbian. How do you know if you are a lesbian?"
The University of North Carolina in Charlotte used Lisa Gossels' film My So-Called Enemy to bring together students from Hillel, the Muslim Students Association and Students for Justice in Palestine. The night after the screening, the Multicultural Resource Center organized a "Civil Discourse" dinner where student leaders from these groups (and others!) bonded and made a commitment to work together.
At Parsons School of Design, a student told My Brooklyn director Kelly Anderson that seeing her film about gentrification and redevelopment in Downtown Brooklyn made him drop his career and go to graduate school in Urban Ecology.
44 years after it was made, Anything You Want To Be opened the first major conference on the early history of the Women's Movement (Boston University's "A Revolutionary Moment: Women's Liberation in the Late 1960s and Early 1970s"). One participant who saw the film in the 1970s told director Liane Brandon, "That was the film that made me a feminist!"
Andrea Leland's film Yurumein screened for Garifuna audiences in Belize. The Garifuna (Black Caribs) are the indigenous people of St. Vincent in the Caribbean, who were nearly exterminated and most were exiled to Central America by the British 200 years ago. The screenings sparked a desire in Central American Garifuna to reach out to their brethren in St. Vincent, in an effort to re-establish their culture and history, lost to those living on St. Vincent.
Pat Goudvis has launched an interactive media project exploring the aftermath of wars in Guatemala and Central America by revisiting the same characters from her 1992 documentary If the Mango Tree Could Speak [no longer distributed by New Day Films] and weaving together "then and now" footage with other elements.
Clips from Alice Elliott's documentary Body & Soul: Diana & Kathy appear in a new training video, ACTIVATE HERE!, designed to help disabled people advocate for themselves (funded by The Fledgling Fund and the Arc of the United States and available free online with closed captioning and audio description).