Reframe & Refresh: "Exploring Global Connections Through Korean Adoptees & Teaching in China" - Oct 25, 2023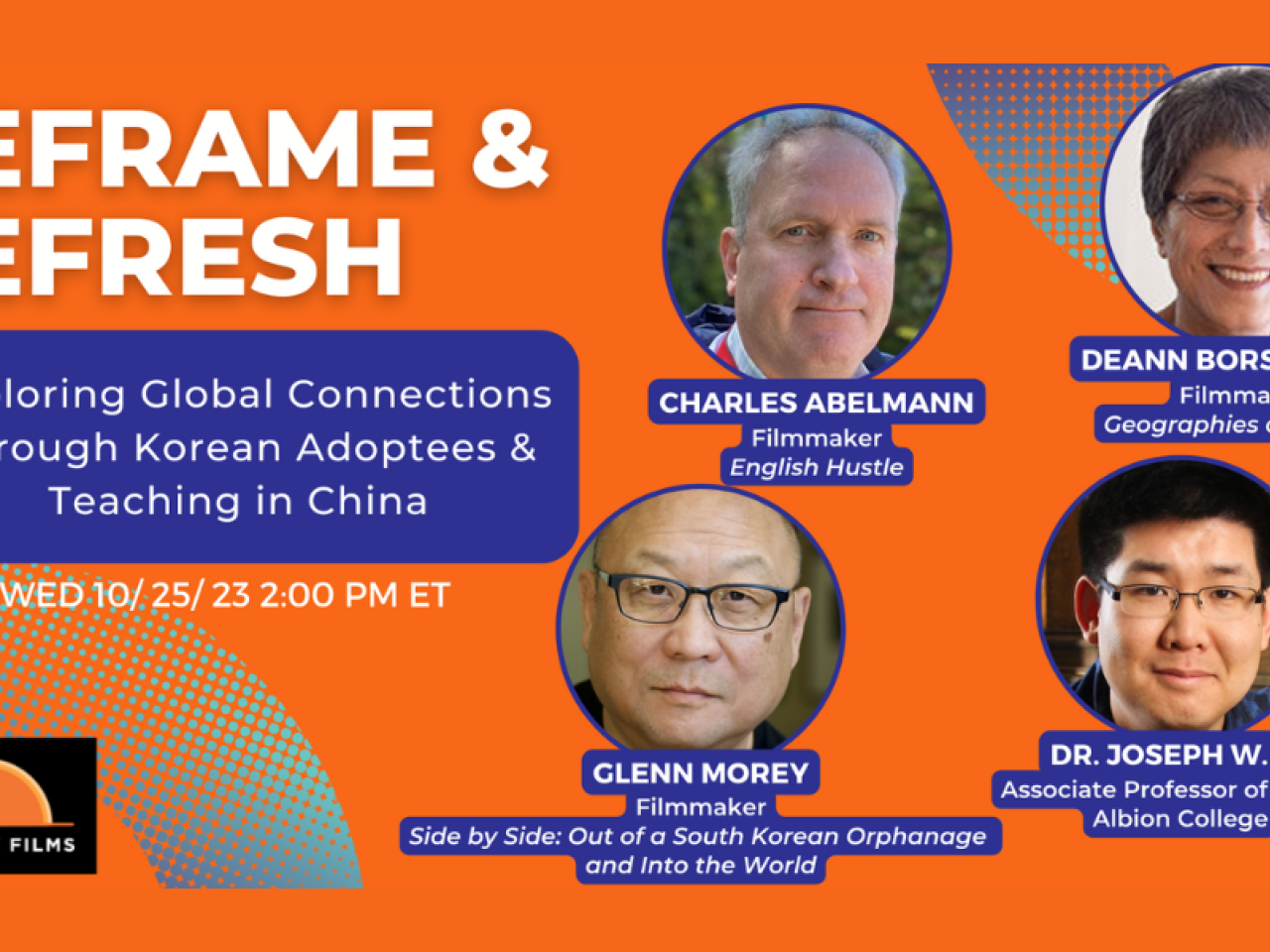 We'll discuss globalization and cross-cultural connection through the lens of globally-based English as a Foreign Language teachers remotely working in China (as seen in English Hustle) and Korean-born, inter-country adoptees questioning their identity (as seen in Side by Side). You will receive the link to join the discussion in your email after registration. Auto-captions will be available.

REFRAME AND REFRESH is a series for the education and filmmaking community to have refreshing conversations that reframe our perspectives.
ABOUT THE SPEAKERS
Charles Abelmann is the Director and Producer of English Hustle. As a filmmaker and an educator, Charles has conducted extensive research on education in China and perspectives on US China relations. He is interested in helping audiences understand complex education topics involving the global education market and cross-cultural issues. He has worked with the Mississippi Band of Choctaw Indians as an education planner and also worked with the Institutions of Higher Learning in Mississippi prior to getting his MA and Ed.D from the Harvard Graduate School of Education (HGSE). He refined his understanding of the international development field from his work as Senior Education Specialist at the World Bank. There he supported education research, capacity building, and education investments in Uganda, Tanzania, Zimbabwe, China, Mongolia, Indonesia, Thailand, the Solomon Islands, and Latvia. He previously served as the head of the Laboratory Schools at the University of Chicago where he directed and produced a film about John Dewey's travels to China from 1919-1921.
Glenn Morey is a New York Times Op Doc filmmaker and Audible author, and is half of a husband/wife filmmaking team, along with Julie Morey. Glenn is an inter-country adoptee, born in Seoul, Korea. He lives in Denver and has enjoyed a 40-year career in filmmaking, brand development, content creation and programming. He was an Executive Producer for the documentary film, House on Fire: Black America Responds to AIDS, featuring Julian Bond, Kweisi Mfume, Maya Angelou, and others, broadcast on PBS. The Moreys have been featured on NPR's Morning Edition and All Things Considered. Side by Side won the Gold Jury Award for Best Short Documentary at the Social Justice Film Festival. It was also an Official Selection of the San Diego Asian Film Festival, Boston Asian American Film Festival, Dumbo Film Festival, and others. In 2019, Side by Side was adapted as a New York Times Op Doc, Given Away, as well as a 12-screen video art installation that exhibited in Seoul, Incheon, and New York City. Side by Side has now been adapted as an Audible Original titled, Given Away.
Dr. Joseph W. Ho is an Associate Professor of History at Albion College, Michigan, and a Center Associate at the University of Michigan's Lieberthal-Rogel Center for Chinese Studies. He is a historian of modern East Asia, US-China encounters, and transnational visual culture and media. Ho is the co-editor of War and Occupation in China: The Letters of an American Missionary from Hangzhou, 1937–1938 (Lehigh University Press, 2017), and the author of Developing Mission: Photography, Filmmaking, and American Missionaries in Modern China (Cornell University Press, 2022). He is currently working on a new book, Bamboo Wireless: Mediating the Cold War in Asia.
Deann Borshay Liem has over twenty years experience working in development, production and distribution of independent documentaries. In addition to the new film, Geographies of Kinship, she is Producer, Director, and Writer of the Emmy Award- nominated documentary, First Person Plural and the award-winning films, In the Matter of Cha Jung Hee and Memory of Forgotten War. Deann served as Executive Producer for Kelly Loves Tony, AKA Don Bonus, On Coal River, Ishi's Return, and Breathin': The Eddy Zheng Story. She also served as Co-Producer for Special Circumstances and Burqa Boxers and as Story Editor for the Peabody-winning film, The Apology. She is the former director of the Center for Asian American Media where she supervised development, distribution and broadcast of new films for public television. A former Sundance Institute Fellow and recipient of a Rockefeller Film/Video Fellowship, Deann is the 2018 recipient of the Women, Peace and Security Fellowship from the San Francisco Film Society for her work-in-progress film about women peacemakers, Crossings.
ABOUT NEW DAY FILMS
New Day Films is a unique, filmmaker-run distribution cooperative, providing award-winning films to educators, community groups, government agencies, public libraries and businesses since 1971. Democratically run by more than 150 filmmaker members, New Day is committed to reflecting greater diversity, representation and inclusion. It is celebrating 50 years of delivering dynamic and provocative storytelling with filmmakers who have won Oscars, Emmys and hundreds of film festival awards. New Day films have been broadcast on PBS, HBO and other media outlets.
ABOUT THE FILMS
English Hustle follows the life of four English teachers during the rise and fall of the online tutoring industry in China. The film explores the power of language as a gateway to building global citizenship.
Side by Side: Out of a South Korean Orphanage and Into the World
What happens when the lives of children are re-set by adoption, sent to grow up in new countries and families of a different race, language, and culture? Nine Korean adoptees reveal a stark and often emotionally fraught journey representing decades of inter-country adoption.