Reframe & Refresh: "Redefining Women's Roles Through Film" - Sept 27, 2023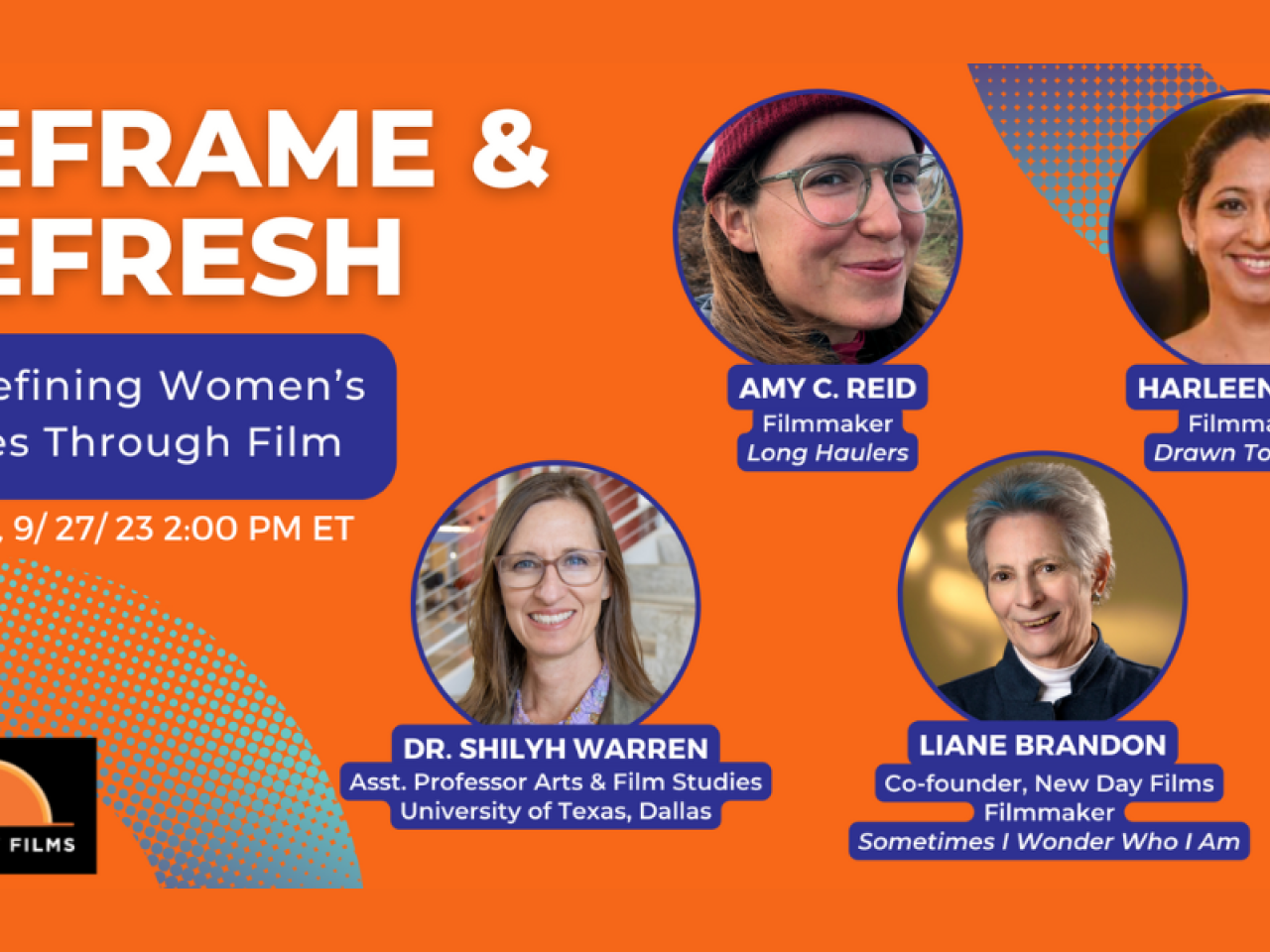 REFRAME & REFRESH is a series for the education and filmmaking community to have refreshing conversations that reframe our perspectives.
Join us for an engaging conversation on "Redefining Women's Roles Through Film" with Liane Brandon, New Day Films co-founder and director of Sometimes I Wonder Who I Am, Amy C. Reid, director of Long Haulers, and Dr. Shilyh Warren, Associate Dean of Graduate Studies and Associate Professor of Visual and Performing Arts & Film Studies at the University of Texas, Dallas. The conversation will be moderated by Harleen Singh (Drawn Together: Comics, Diversity and Stereotypes).
We'll discuss how Sometimes I Wonder Who I Am and Long Haulers challenge traditional gender roles of women in the workplace and at home.
You will receive the link to join the discussion in your email after registration. Auto-captions will be available.
ABOUT THE SPEAKERS
Liane Brandon is an award-winning filmmaker, photographer and University of Massachusetts/Amherst Professor Emeritus. Her groundbreaking films Anything You Want To Be and Betty Tells Her Story were among the first and most popular consciousness raising tools of the Women's Movement. Her films have been featured on HBO, the Criterion Channel and at MoMA and the Tribeca Film Festival. She is a co-founder of New Day Films. Currently working as a still photographer, her credits include stills for PBS, Nova and American Masters. Before becoming a filmmaker, Brandon experimented with several short careers, working as a ski instructor, waitress, high school teacher and professional stunt woman.
Amy Reid is an artist and filmmaker whose work examines the intersections between gender, national identity, and labor. By exploring observational approaches and expanding upon formal cinematic notions of time, structure, and narrative, Reid's work questions how labor is constructed in the filmic form through feature length films, video installations, and texts. These multi-year projects, often working closely with a group—long haul female truckers, quilters, e-commerce sellers—premise upon collaboration, performance, and experimentation. Reid has shown their films at spaces such as Los Angeles Filmforum, Workers Unite Film Festival, and the I See Video Festival in Shanghai. Currently they are pursuing a doctoral degree in Film and Digital Media at the University of California, Santa Cruz where part of their dissertation work is a feature-length experimental documentary looking at women, quilting, and 19th century U.S. history.
Dr. Shilyh Warren is an associate professor of Film Studies at UT Dallas and the Associate Dean of Graduate Studies in the Schools of Arts, Humanities, and Technology. She is the author of Subject to Reality: Women and Documentary (2019). Her research and publications focus primarily on documentary film history and theory as feminist studies. Her psychoanalytic research focuses on the politics of sexuality and film theory, which she writes about in "Revolution is Another Climax," Women & Language (2021) and "Sexuality and Discourses of Care in Feminist Documentary," Feminist Media Histories (2023).
Harleen Singh was born in Wellington and raised in 17 cities across India and U.S. Harleen's thought provoking films inspire viewers to look beyond their limitations and achieve their goals. Social issues affecting minorities are a central theme in her work since the beginning of her career at The History Channel and National Geographic Channel. Her film Drawn Together: Comics, Diversity and Stereotypes has been selected in 52 international film festivals and has received 9 major awards. Harleen holds a Masters in Strategy and an MBA from Indian School of Business.
ABOUT THE FILMS
Filmed in 1969, this poignant portrait of a young mother helped to give voice to a generation of American women whose opportunities and career choices were extremely limited. One of the first independent films of the fledgling Women's Movement, many of its themes ring as true today as they did in 1969.
From 77 year-old Sandi, to formerly incarcerated Lori, to guinea pig lover Tracy, Long Haulers defies stereotypes and gives a platform to women who have often been marginalized and type-casted. Sharing their sorrows and triumphs, viewers learn who these women are, and what keeps them trucking.