Reframe and Refresh: "Understanding Memory, Family Trauma and Divorce Through Film" - June 1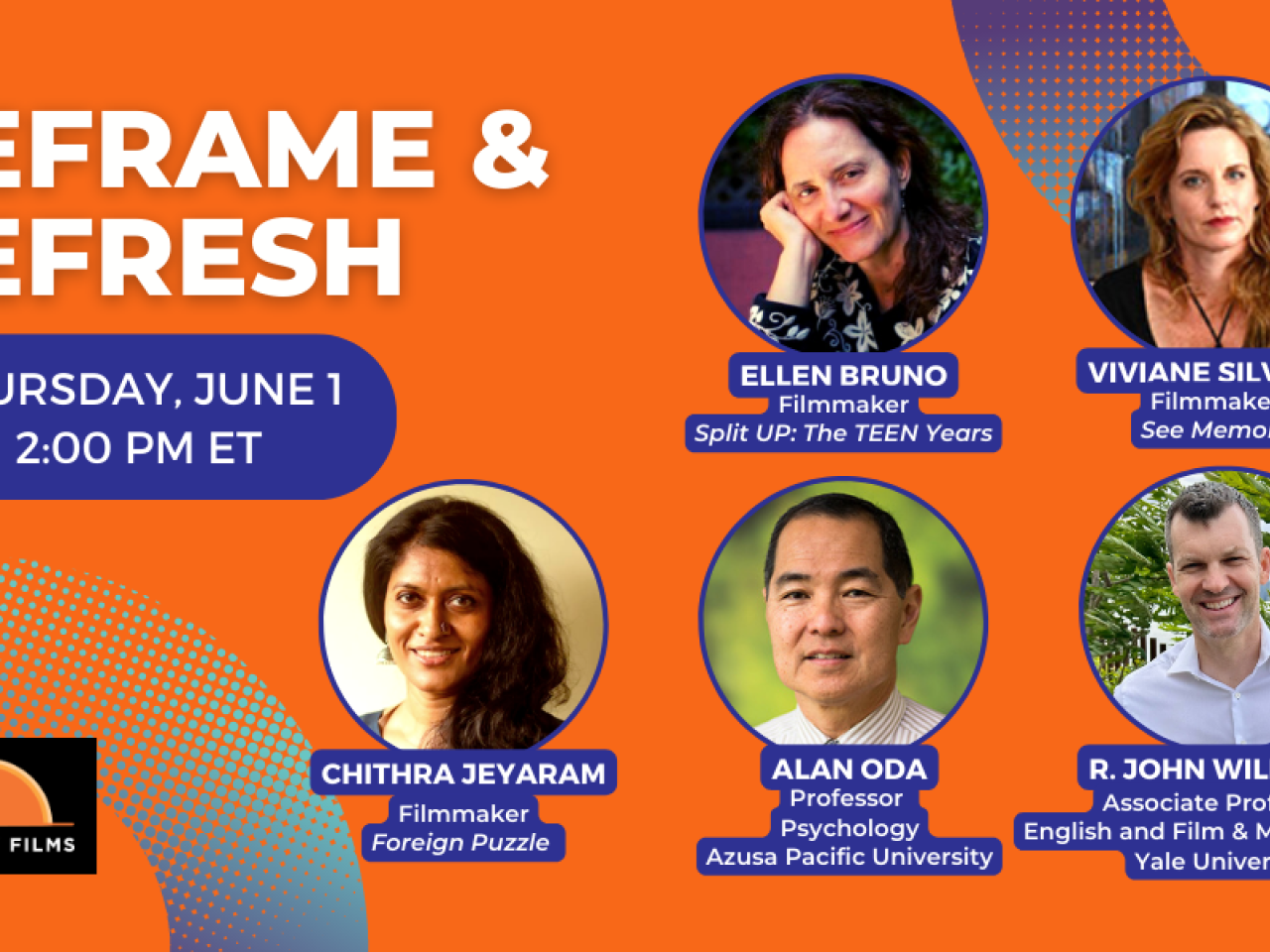 Reframe and Refresh: "Understanding Memory, Family Trauma and Divorce Through Film" - June 1
Join us for this impactful conversation on "Understanding Memory, Family Trauma and Divorce Through Film" with Ellen Bruno, director of Splitand Split UP: The TEEN Years, Viviane Silvera, director of See Memory, Alan Oda, Professor of Psychology at Azusa Pacific University, and R. John Williams, Associate Professor of English and Film & Media Studies at Yale University. Moderated by Chithra Jeyaram, (Foreign Puzzle).
We'll discuss the effects of divorce on children and teens as documented in Split UP: The TEEN Years and the power of memory and healing through art as seen in See Memory.
You will receive the link to join the discussion in your email after registration. Auto-captions will be available.
REFRAME AND REFRESH is a series for the education and filmmaking community to have refreshing conversations that reframe our perspectives.
REGISTER HERE: https://reframe61.eventbrite.com/
REFRAME AND REFRESH is a series for the education and filmmaking community to have refreshing conversations that reframe our perspectives.
ABOUT THE SPEAKERS
Ellen Bruno is an award-winning documentary filmmaker based in San Francisco. With a background in international relief work, Ellen's films have focused on issues at the forefront of human rights. Ellen holds a master's degree in documentary film from Stanford University. She is a recipient of Guggenheim and Rockefeller Fellowships, a Goldie Award for Outstanding Artist, an Alpert Award for the Arts, an Anonymous Was A Woman Award for the Arts, a Shenkin Fellowship from Yale University School of Art, and was an Artist-in- Residence at the Yerba Buena Center for the Arts. Ellen serves on the Board of the Buddhist Film Festival, the Pacific Pioneer Fund, and Ethical Traveler.Org. She is a strategic planning consultant with the Creative Capital Foundation's Professional Development Workshops, working throughout the country to provide artists a cohesive structure to organize, plan and sustain creative careers.
VIVIANE SIVERA is an artist and filmmaker whose intention is to give voice to our experience of imagining and remembering while exploring scientific discoveries that can fundamentally change our relationship to memory.
She has exhibited her work for 22 years, most recently at Art Basel Miami, Berlin Art Week, the Edward Hopper House, the Albright Knox, Dahesh, and Masur Museums, and El Museo de la Ciudad - Mexico. Her videos have been installed at the Bill & Melinda Gates Foundation, MGM National Harbor, Sarah Lawrence College, University of Mary Washington, The Cube Art Project with Union Bank, 4Culture Gallery in Pioneer Square, Seattle, Altspace VR, Joe's Pub at the Public Theatre, and Davidson College, among other venues. Her videos have been licensed by McCann Advertising and installed in hotels, universities, and museums across the globe.
Silvera has received numerous grants and awards, including a Voice x NYAA Residency, the 2013 Award of Excellence in Painting from the Edward Hopper House, the Chaim Gross, Valerie Delacorte, and Harriet Whitney Frishmuth Awards from the National Academy School of Fine Arts, a Fantasy Foundation Grant, and a Newington Cropsey Grant. Her work is held in the permanent collections of Duke University, Davidson College, Vanderbilt University, Ziff Davis Corporate Collection, Clinton Presidential Library & Museum and Tribeca Flashpoint Media Academy. Silvera's outdoor sculpture "The Fault" was commissioned by and permanently installed at Vanderbilt University. Silvera earned a BS from Tufts University in Political Science and Psychology and an MFA from the New York Academy of Art. She was born in Hong Kong and raised in Brazil. She is based in New York City.
Dr. R. John Williams is Associate Professor of English and Film & Media Studies at Yale University, and a Visiting Scholar in the Center for Religion and Media at NYU. His academic work so far has focused on international histories of Buddhism, technological innovation and the perceived difference of racial and cultural otherness. His book, The Buddha in the Machine: Art, Technology, and The Meeting of East and West(Yale University Press, 2014), examines the role of technological discourse in representations of Asian/American aesthetics in late-nineteenth and twentieth century film and literature. The book won the 2015 Harry Levin Prize from the American Comparative Literature Association. He just completed a manuscript titled World Presence: Deconstructing Mindfulness.
Alan Y. Oda, PhD, is a Professor in the Department of Psychology at Azusa Pacific University. Before arriving at APU in 1996, Oda worked at California State University, San Bernardino; University of California, Riverside; University of California, Irvine; and the University of Redlands. He holds a PhD, Psychology (Emphasis in Developmental Psychology) and MA from UC Riverside. He earned his BS in Human Development from University of California, Davis. He teaches courses on "Psychology of Child and Adolescent Development" and "Human Growth and Development." After working as a lab tech at UCLA's Neuropsychiatric Institute and as the project assistant for the Western Region Asian American Project, he completed his teaching internship at California State University, Northridge, which started his career in the classroom.
Chithra Jeyaram makes films about identity, relationships, race, art, and health. She is the director of Foreign Puzzle, an intimate documentary that captures the journey of an inspiring Mexican American dancer as she communicates the impermanence of life through dance while juggling the roles of a recently divorced parent of a 6-year-old, a choreographer and a primary school teacher amidst intensive treatments for breast cancer. Her work is supported by Chicken and Egg Pictures, Brown Girls Doc Mafia, Jerome Foundation, Center for Asian American Media, New York State Council for the Arts, BAVC Media Maker Fellowship, Made in New York Fellowship, American Institute for Indian Studies, Lancet, Dance Films Association, and pitched at competitive industry events like the Gotham, Sheffield Meet Market, DOC NYC, and BFI Production Finance Market.
ABOUT NEW DAY FILMS
New Day Filmsis a unique, filmmaker-run distribution cooperative, providing award-winning films to educators, community groups, government agencies, public libraries and businesses since 1971. Democratically run by more than 150 filmmaker members, New Day is committed to reflecting greater diversity, representation and inclusion. It is celebrating 50 years of delivering dynamic and provocative storytelling with filmmakers who have won Oscars, Emmys and hundreds of film festival awards. New Day films have been broadcast on PBS, HBO and other media outlets.
ABOUT THE FILMS
Split UP: The TEEN Years is a sequel to the award-winning film SPLIT. 12 teens look back at childhoods marked by divorce in this 50-minute film SPLIT UP: The TEEN Years. After 10 years, these teens are even more articulate than in their younger years, and have the entirety of their childhood to reflect upon.
SEE MEMORY is a 15-minute film created out of 30,000 painting stills that explores how our memories define who we are, how we remember, and the inextricable link between memory and imagination. Narration is based on interviews with neuroscientists and psychiatrists, including Nobel Laureate Eric Kandel. The moving paintings portray a young woman's journey to understand and come to terms with her memories. Told in magical realist style with colors that drip, layer and bleed into each other, they are a visual metaphor for the act of remembering.