Please join New Day Films for the DC Environmental Film Festival (DCEFF)!!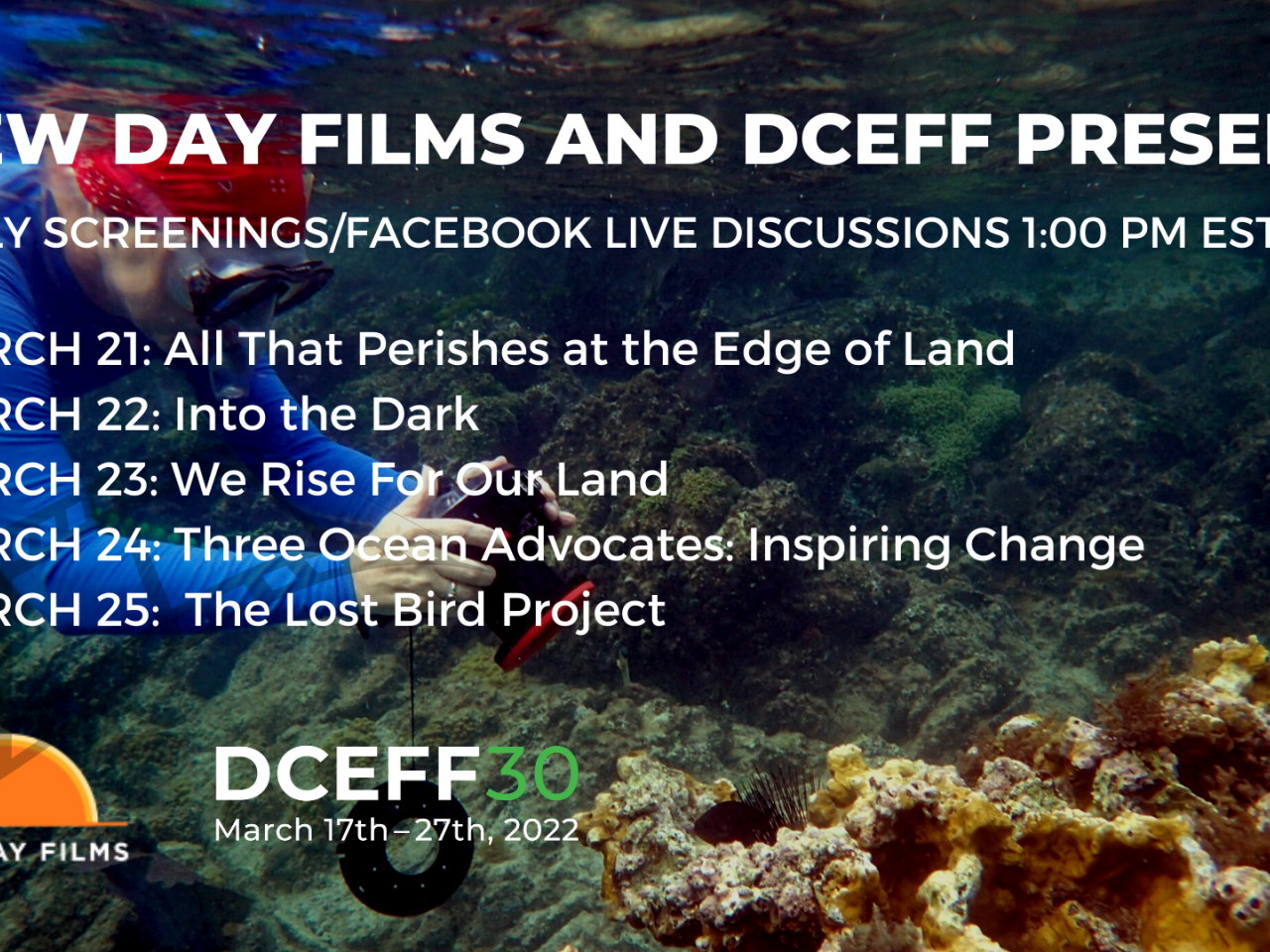 For the second year in a row, New Day Films is partnering with the Washington DC Environmental Film Festival, the largest environmental film festival in the world, to bring to your home five thought-provoking films. Each film tackles environmental challenges we face on this magnificent planet.
Every day from March 21 to 25, one New Day film will be made available for 48 hours. Each day there will also be a live Q&A with the filmmaker at 1 pm Eastern Time. Explore human impacts on the oceans, including stories from the Arctic sea ice, a shipyard in Pakistan, and the Pacific coast of California and US Virgin Islands. Learn about a sculptor working to memorialize extinct birds. And follow the advocacy work of women fighting for land rights in Mozambique, Zambia, and Eswatini. Join us!
March 21 All That Perishes at the Edge of Land, 31 minutes
Q&A 1:00 pm ET, with director Hira Nabi
Workers come from all over Pakistan to break down a ship berthed at Gadani. When shipbreakers enter into conversation, they discover that they have more in common than they could have imagined. This film explores the dangers the shipbreaking industry poses for both workers and the environment.
March 22 Into the Dark, 28 minutes
Q&A 1:00 pm ET, with director Michael O. Snyder and David McKee of UiT The Arctic University of Norway
Viewers are taken on an extraordinary expedition into the polar night. A scientific team seeks to understand how changes in underwater light tied to sea ice loss may be radically altering the arctic ecosystem.
March 23 We Rise for Our Land, 50 minutes
Q&A 1:00 pm ET, with director Kurt Otabenga Orderson and Postdoctoral Researcher Boaventura Monjane
Women in three southern African nations work the land and mobilize for legislation, putting themselves at the center of decision-making around land use. This moving film affirms that agrarian reform requires extensive civic and popular education - particularly in rural areas.
March 24 Three Ocean Advocates: Inspiring Change for a Healthy Ocean, 29 minutes
Q&A 1:00 pm ET, with co-director Cynthia Abbott and Research Biologist Caroline Rogers
An artist, a fisherman and a photographer take actions that inspire hope for our ailing oceans, which are suffering from plastic pollution, climate change, and acidification. Viewers come to understand how human behavior will determine the fate of the ocean and its health for future generations.
March 25 The Lost Bird Project, 59 minutes
Q&A 1:00 pm ET, with co-director Todd McGrain
This is a film about public art, extinction and memory. It is an elegy to five extincdt North American birds and a thoughtful, moving, and sometimes humorous look at sculptor Todd McGrain's endeavor to memorialize them.