New Day Films Mourns Loss of Founder Julia Reichert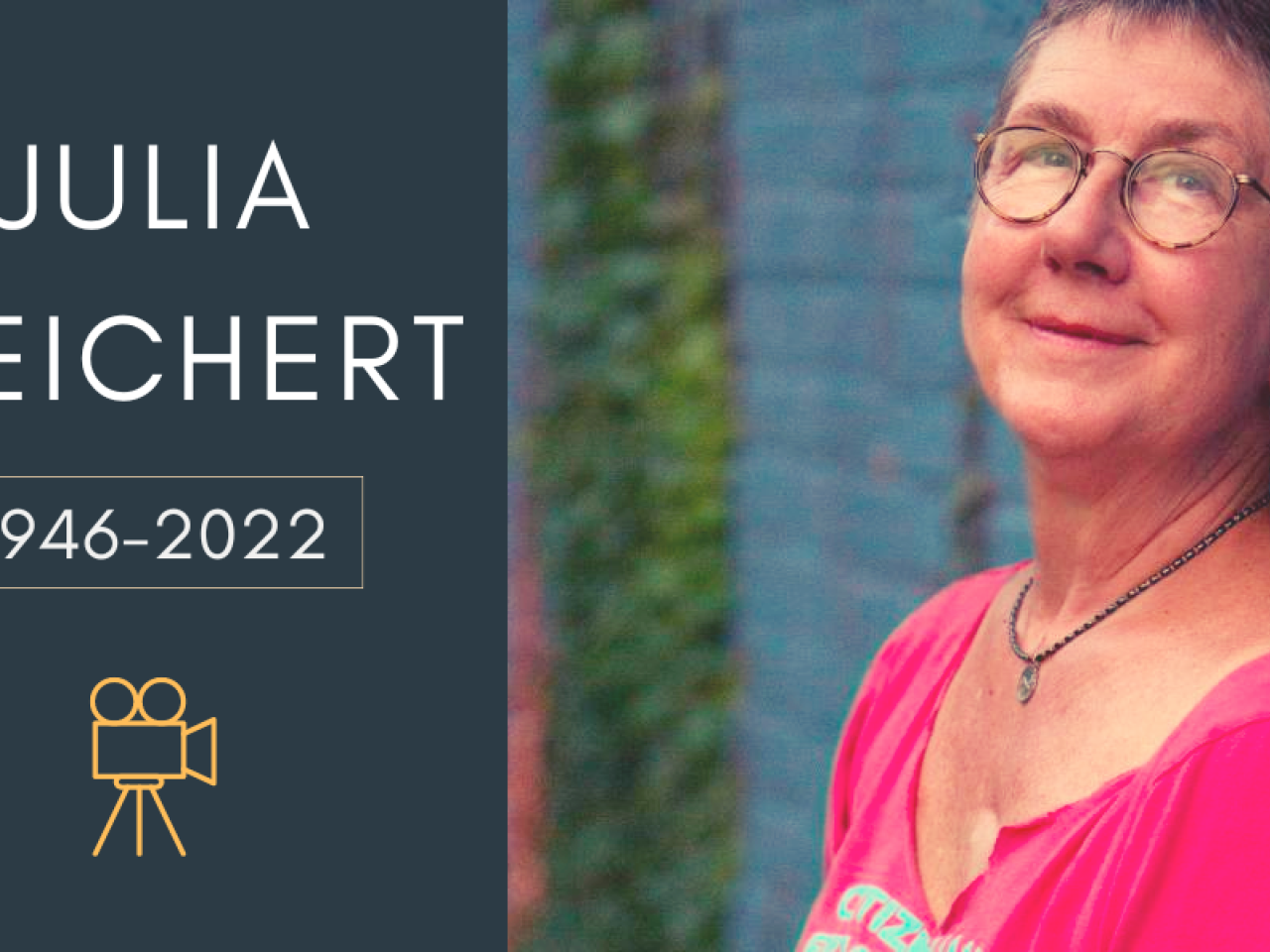 After a long battle with cancer, revered documentary filmmaker and New Day Films co-founder Julia Reichert died peacefully on December 1, 2022. In her trailblazing 50-year career, she pioneered coverage of women's struggle for equality and more recently shared an Academy Award for a powerful documentary on American workers.
Reichert's career began in independent filmmaking when independent, progressive voices had limited outlets for distribution. In 1971, Reichert, along with her co-founders, Amalie R. Rothschild, Jim Klein and Liane Brandon, created New Day Films, a film distribution cooperative specializing in social issue films in the education market, because they had no effective way to distribute their films about the women's movement.
On her lasting impact, Reichert's collaborator on her early films Jim Klein shares, "Julia and my role in the founding of New Day Films was an essential part of our lives. While Julia made wonderful films, her work building the independent filmmaker community will live on. Before DIY became a thing, Julia lived the idea. She even wrote a manual titled "Doing it Yourself" in 1977 that helped generations of filmmakers get their work out."
Adds fellow founder and filmmaker, Amalie R. Rothschild, "If I had to describe what I consider her most important quality, among the many, it would be her ability to inspire others and create solidarity in a far-flung community of filmmakers and ordinary people who responded to her openly honest humanity."
Reichert's first film released through New Day Films, Growing Up Female, co-directed by Jim Klein was a pioneering film in the women's movement that shined a light on gender bias and was added to the Library of Congress's National Film Registry. A couple of her next films, Union Maids, a look at the 1930s labor movement through the story of three women, and Seeing Red, about the American Communist Party, would garner Oscar nominations. In 2020, she would finally bring home the Best Documentary Feature Oscar for her film, American Factory, co-directed with her partner Steve Bognar and produced by Barack and Michelle Obama's Higher Ground Productions and distributed by Netflix.
In discussing the genesis of New Day Films, Reichert and co-founder Liane Brandon noted "The whole idea of distribution was to help the women's movement grow. Films could do that; they could get the ideas out. We could watch the women's movement spread across the country just by who was ordering our films."
New Day Films would become the longest running film distribution cooperative that has grown to over 300 titles with over 150 filmmaker members. The films in New Day's collections highlight individuals whose race, class, and gender rendered them invisible as well as those who were marginalized or ignored. They document the history of a wide range of social movements, from the nascent women's movement to anti-war activism, labor struggles, the fight for LGBTQ and disability rights, racial equality and other issues confronting society in the U.S. and abroad.
Reichert leaves behind not only a distinguished body of work, but a lasting legacy that lives on in the filmmakers at New Day Films. She is survived by her partner, Steve Bognar, and her daughter Lela Klein Holt.
Julia Reichart's Films in New Day Films' Collection
Growing Up Female (1971) by Julia Reichert and Jim Klein
One of the first films of the modern women's movement. Produced in 1971, it caused controversy and exhilaration. It was widely used by consciousness-raising groups to generate interest and help explain feminism to a skeptical society.
Union Maids (1976) By Julia Reichert and Jim Klein
Union Maids is the story of three women who lived the history of the 1930s labor movement. It was the first film of its kind- an oral history, using a wealth of footage from the National Archives to chronicle the fight to form industrial unions as seen through the eyes of rank and file women.
Seeing Red (1983) By Julia Reichert and Jim Klein
A film about passionate commitment, numbing disillusionment and renewal, Seeing Red is an informed look at the hopes and aspirations of more than a million people who joined the American Communist Party between the Great Depression and the Cold War, and were transformed by their experience.