Meet New Day: Robbie Leppzer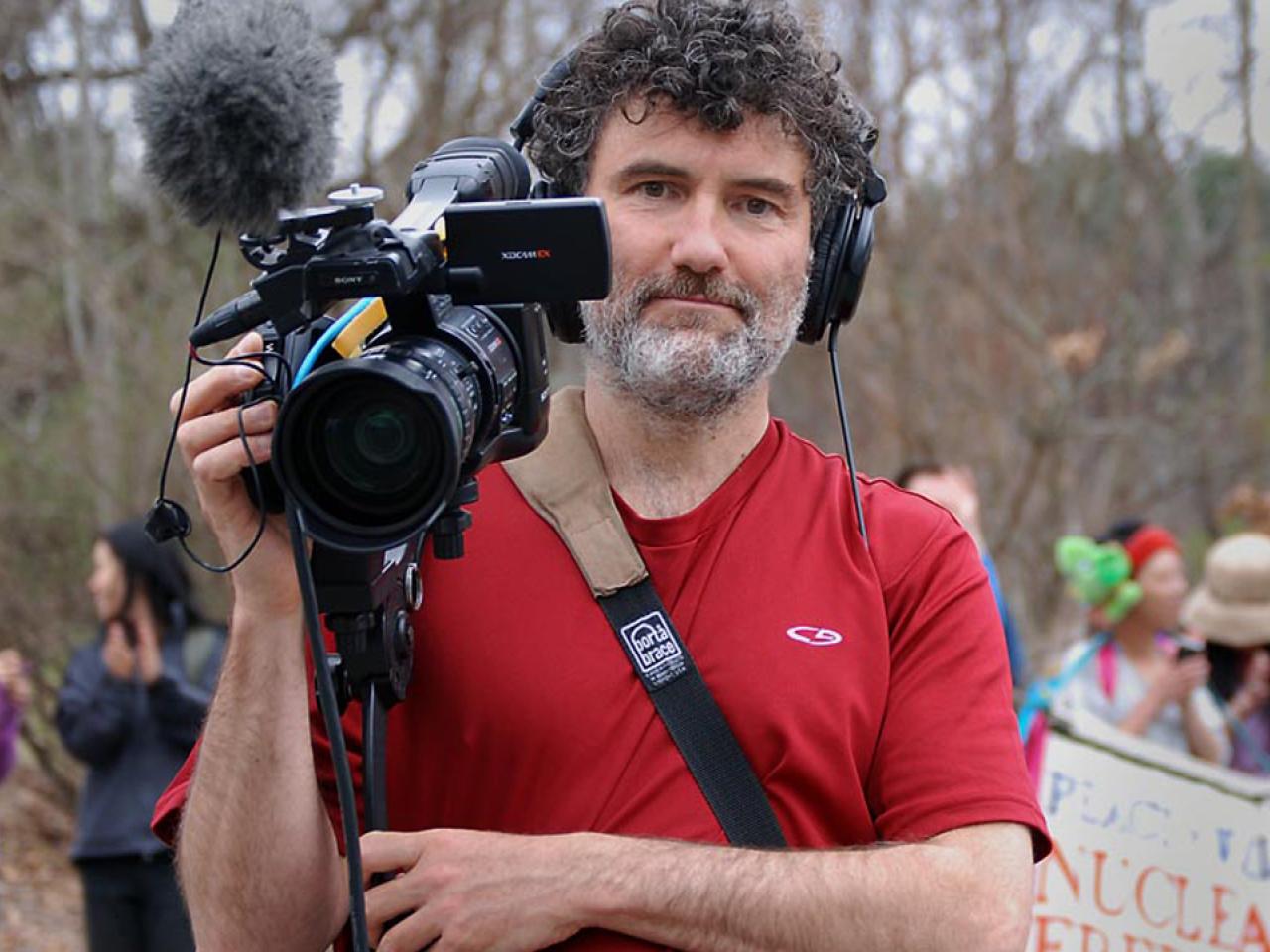 From the environmental protests of the 1970s, to the growing global peace, social justice and environmental movements of the new millennium, I have been documenting grassroots social movements over the last four decades.
I film stories of people who stick their necks out to take risks for social change and build bridges across cultures. I live in western Massachusetts.
My latest film, Power Struggle, chronicles a rare victory for community activists – a successful citizens' effort to protect the environment by shutting down an aging nuclear power plant. It is a timely, inspiring story of democracy in action, the climate justice movement, and the power of citizens' voices against big moneyed interests.
A scene from Power Struggle
Filmed over five years, this feature-length documentary portrays a heated political battle to close the Vermont Yankee nuclear power plant, located on the banks of the Connecticut River in southern Vermont. The film follows community activists, ordinary citizens, and college students, who – together with their elected representatives in the Vermont Legislature – take on one of the biggest power companies in the United States.
Power Struggle captures perspectives on all sides of the controversy, including local residents that are both for and against nuclear power, elected officials (including U.S. Senator Bernie Sanders and Vermont Governor Peter Shumlin), nuclear engineer Arnie Gundersen, a Vermont Yankee company spokesperson, federal nuclear regulators, and the legendary activist Frances Crowe (who recently died at age 100).
A scene from Power Struggle
Power Struggle brings nuclear power and the long-term hazards of radioactive waste back into the public forum for contemporary debates about environmental protection and the ethical impact of technology on our society. It is also one of the only films that links nuclear power with the climate justice movement.
I produced Power Struggle as a tool to inspire discussions about environmental justice issues, climate change, renewable energy, and enhanced citizen participation in our democracy. After years of working on the film, I have been quite heartened by the response this documentary has received at community showings, school presentations, television broadcasts, and at a recent special screening at the Massachusetts state legislature.
In this time of political turmoil and despair about the future of our planet, I am pleased to have created a compelling story that gives viewers hope that grassroots activism can be effective at bringing about positive social change.